A is for...
Abbey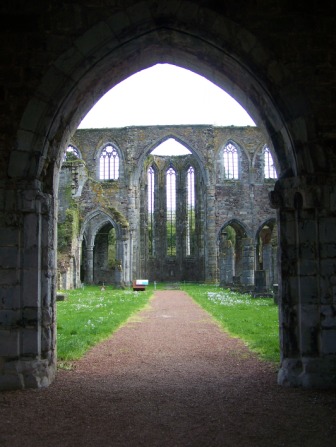 Belgium has lots of abbeys! This one is in the town of Thuin and is called Aulne Abbey. It was built around 637 and was inhabited over time by Benedictine monks, a group of secular clerics, and then Cistercian monks. It was one of many, many amazing structures that fell to the French during the 18th century - it's library of 40,000 books and 5000 manuscripts was destroyed at that time. More abbeys will be shown on different pages - we loved to visit the abbeys!
Apoteek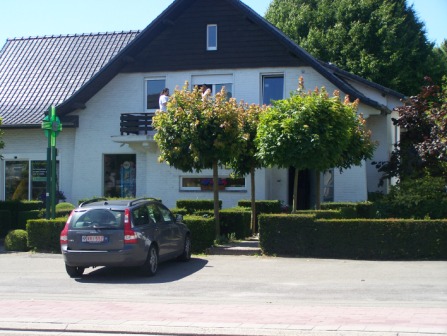 Apoteek, with it's green cross out front, is a pharmacy. This is ours, just around the corner from our house. The pharmacist is a very nice man who recognizes all his customers and switches languages for each one just upon seeing you once he gets to know you. All medications are sold at the pharmacy - none are sold at other stores - so you had to go here for prescriptions plus any over the counter anything you might need.
Arboretum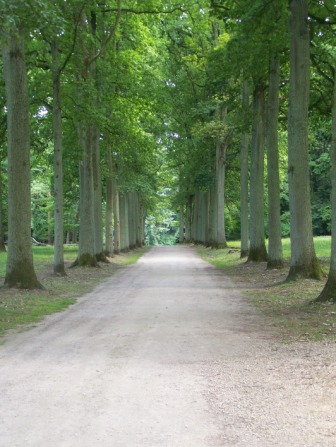 The Arboretum is between Tervuren and Overijse - a huge forested area with many trails for hiking, biking, and horseback riding. One road runs through it, one way from Tervuren to Overijse (and it is not the one above - that is a main walking path), but even with that restricted access it is a very busy place.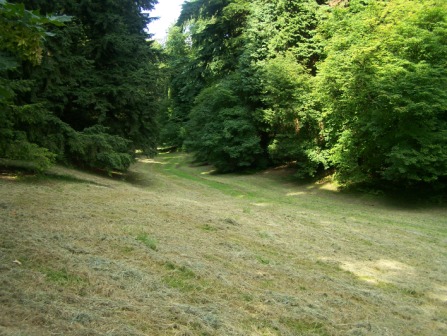 The whole Arboretum, plus even more around it, was part of King Leopold's dream of having as much as he possibly could, so it was originally part of the royal family's property. Much of what Leopold collected over time has been donated to the country itself and that is what happened to the Arboretum.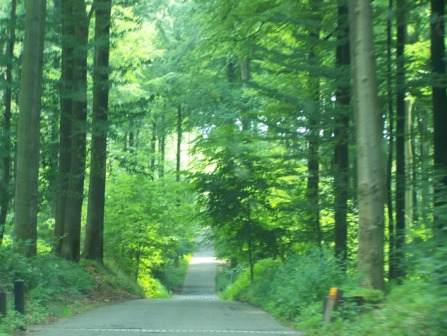 We always enjoyed driving through on our way home to Overijse and stopped a few times for walks. A cross country meet hosted by the Brussels American School was held here each fall as well, so we came to watch Alex and all the other kids run as well.
Ardennes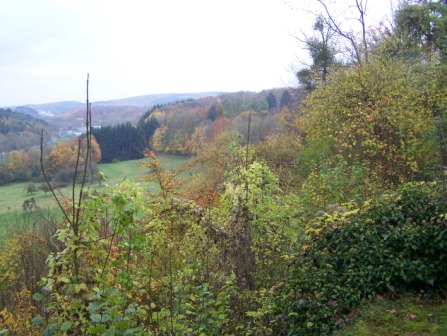 The Ardennes is the heavily forested area in the south of Belgium - it stretches across Belgium and into Luxembourg and France as well. The above picture was taken in town of Rochefort one fall when we went there to go into one of Belgium's famous caves (the Grotte de Lorette), going down about 300 meters below ground!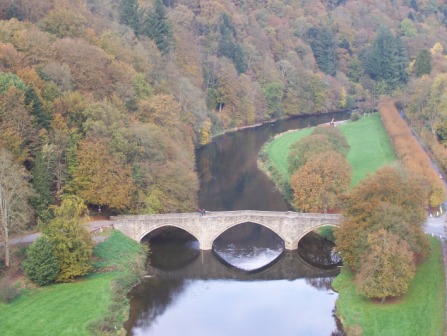 And this bridge in the Ardennes is located near the town of Bouillon taken from the castle of Godfrey who was a big part of the Crusades. You can't really go very far south from Brussels without being in the Ardennes and it is a place where many a weekend holiday is spent by the locals! The traffic out on a Friday and back in on a Sunday can be quite daunting!
Asparagus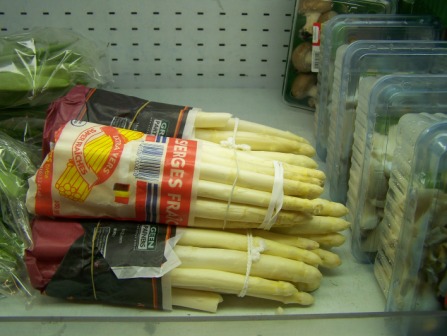 Belgium grows a great deal of white asparagus - we tried it (and liked it!) several times and it is milder than the green variety. It is grown in the dark and that is what makes it white instead of green.
Atomium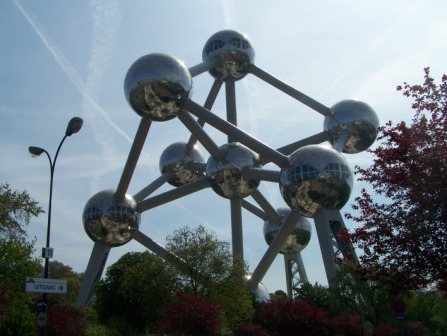 The Atomium was built for the 1958 World's Fair that was held in Brussels. It was designed by Andre Waterkeyn and was meant to remain for only about 6 months. It soon came to be known as an icon of Brussels and it was decided it would be kept. It is in the shape of a unit cell of an iron crystal magnified 165 billion times - it is 335 feet tall with 9 spheres connected by 12 rods. The spheres contain exhibits - the top one has a panoramic viewing area and a restaurant. The main vertical tube has an elevator used to bring visitors down and the other tubes have escalators to ride from one tube to the next.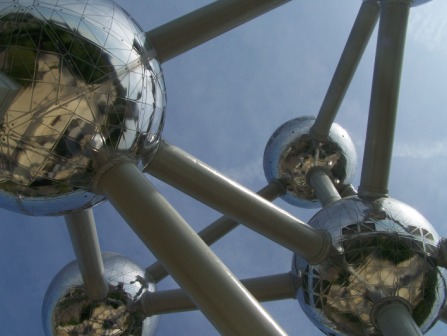 The view from the top sphere is amazing! The structure itself may be a bit odd and not fit with the architecture of the city, but it has become of symbol and will remain!
Aventure Parc
This recreational parc in Wavre is a great way to spend a day! Alex went with scouts and Sonya and the girls went another day (when the boys were both out of town) and we all had a blast. The are multiple paths through the trees that get increasingly harder with many different types of challenges to cross, go over, swing on, climb up, and much more! Highly recommended for a fabulous day of fun!
American Women's Club of Brussels (AWCB)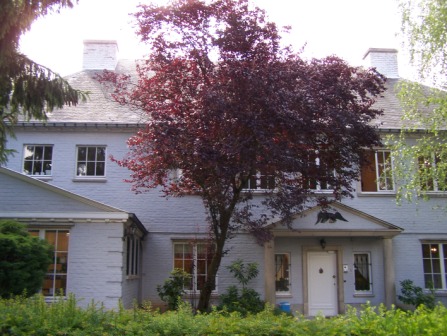 The AWCB was often visited by Sonya. It may be called the American Women's Club, but it's members cross more nationalities than I could count! Offering classes, tours, and special interest groups (the Scrapbooking Club!!), there was always something going on and we even have our own little tea room where you can come in for lunch if you want. The Brussels club is one of the few in the world that actually has it's own clubhouse - the front of which is above and the back, where the main entrance is, below. Sonya really enjoyed being a part of the club and having the opportunity to learn so much about our host country through it's activities!