Feudal Castle in La Roche en Ardenne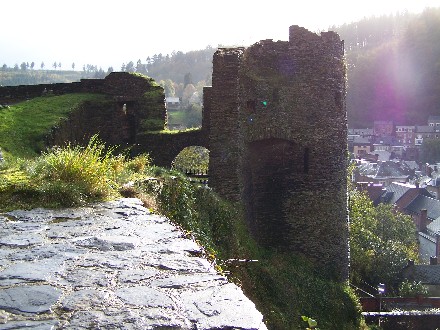 After a morning of World War II Museums, we took a turn further into the past and walked through La Roche en Ardenne to their medieval castle. It sits high on a bluff overlooking a bend in the river - since it was misting rain that made the cobblestone path leading up to the castle quite slippery! We managed to make it up and entered the castle.
While this castle has an interesting story about a ghost, we did not find the structure itself to be all that intriguing. Seems that a long ago owner of the castle had only a daughter and she was not interested in finding a husband who could take over the lands from the father. So he set up a challenge to encourage suitors to come for her hand in marriage. He managed to get a very well to do young man (who happened to already be engaged....) and an unknown young man to come to the castle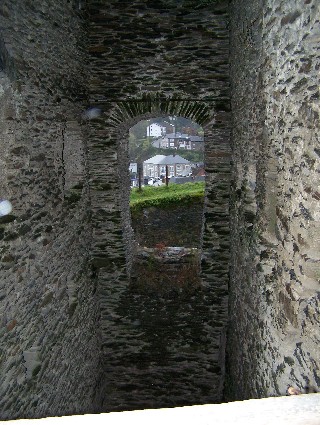 to hold a joust for her hand (and thus all his property as well). The well to do young man was considered the best of all when it came to jousting so the father thought his daughter would be set with him, but the unknown man came out the winner of the joust! He remained unknown/hidden to them through the quick wedding that followed.
When the father went the next morning to check on his daughter and her new husband, there was no answer at the door. He eventually banged his way into the room only to find it empty! A look out the window of the high tower revealed two figures lying dead at the bottom of the drop. Turns out the unknown young man was in reality the original intended bride of the well to do young gentleman!! The ghost of the daughter now regularly haunts the castle....