ISB Track Meet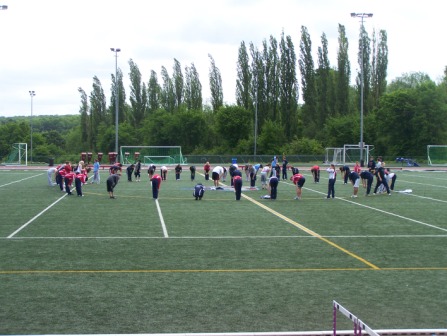 ISB hosted this track meet in the spring with several other international schools coming to compete our our home track (which is only 350 meters long...).
Here ISB is warming up - we have a huge team!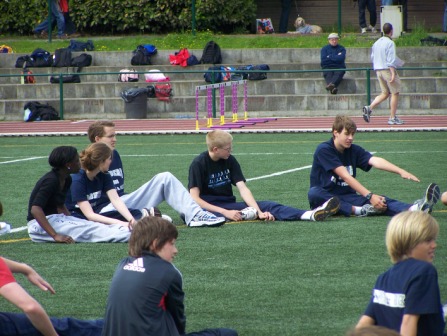 Alex gets some stretching in while he talks to Colin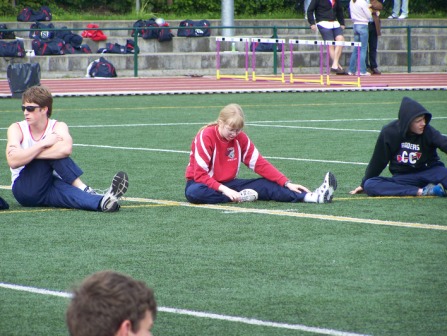 Amanda stretches while she examines the Astroturf - then it's on to the events!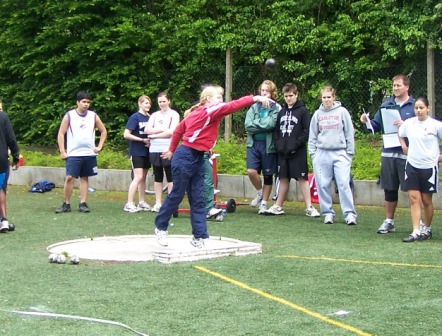 Amanda is the most "shocking" shot put thrower on the team - she always surprises the other teams when she walks up all small like she is, but she has been known to score points for the team both in this and the discus (which we did not get pictures of because our family photographer was helping with some of the events of the day and didn't make it down to the throwing area...Sorry Amanda!)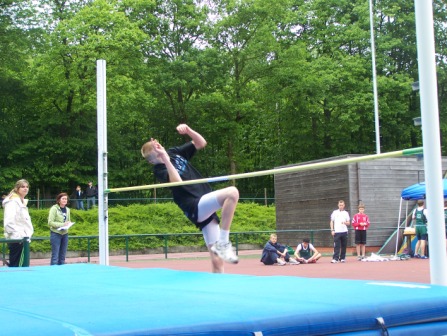 Fortunately for the photographer, shot put and high jump are right next to each other, so pictures could be taken of both kids competing - Alex goes up for a high jump here....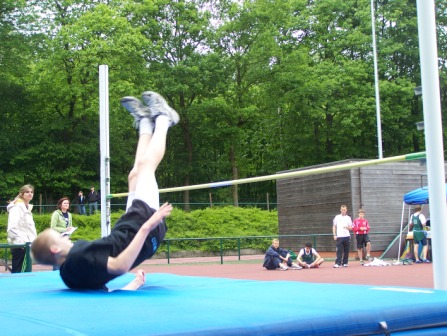 and makes it over!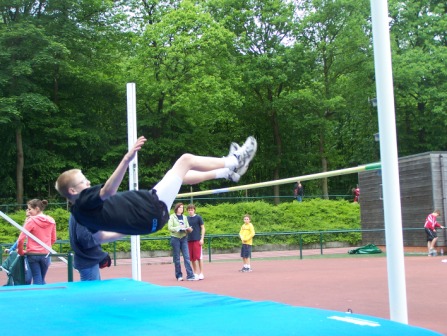 And does it again...
And again he goes over - our team's head coach is a Belgian National high jump champion, going back and forth with that title with the Belgian who won high jump at the latest Olympics! Who better to teach Alex how to get over that bar!
Back to Amanda and the shot put - her teammate Emilie is behind her in the grey sweatshirt.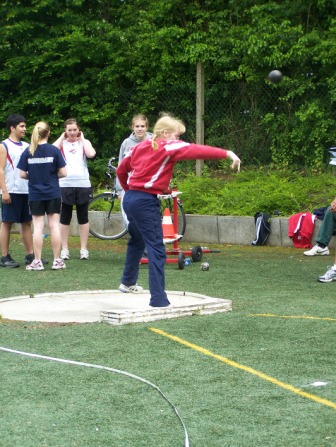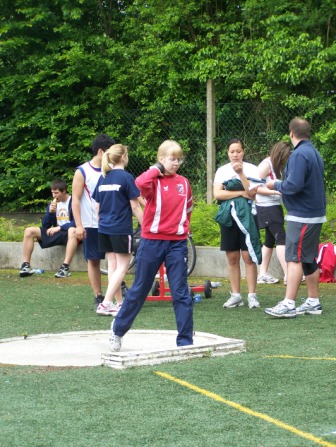 Amanda is very serious about her throwing....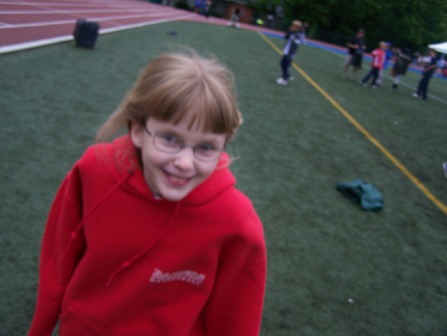 Casey spent the whole day at the meet - during some down time we played see if she can run out of the camera shot before it captures her. She won some times, but not always!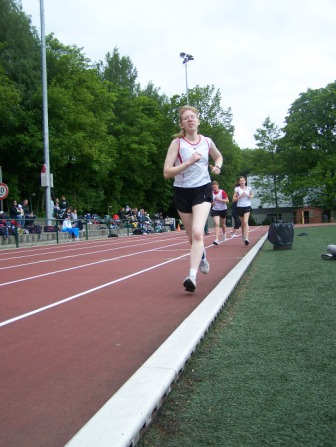 And now some running - Amanda ran the 1500 meters today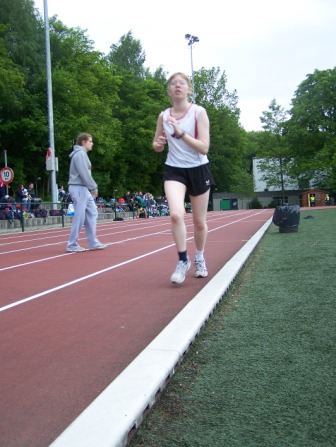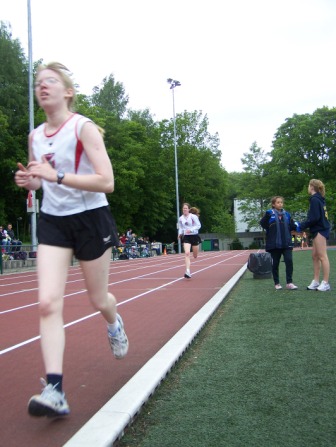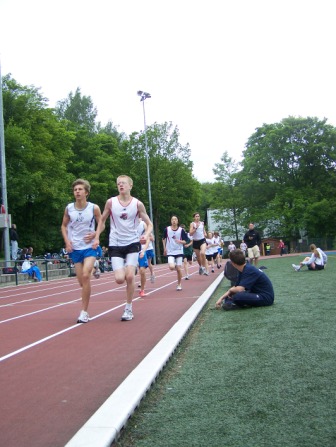 And Alex ran the same distance as well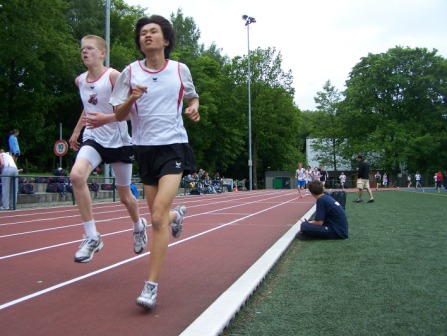 Alex and Kazuki battle it out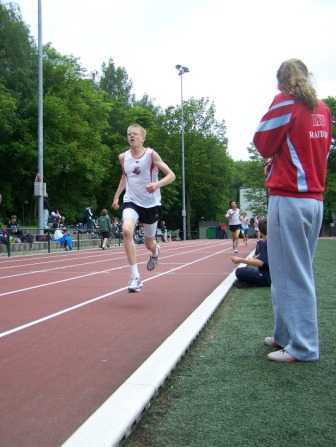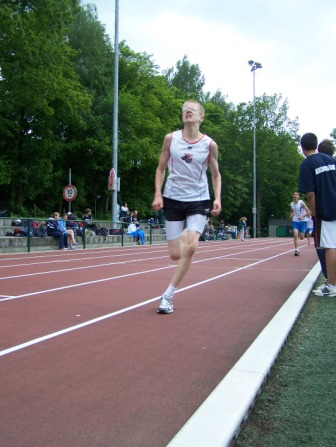 And Alex pushes it to the finish line.
Today's finishes for our kids -
Amanda threw the shot put 5.09 meters, for 9th place out of 11 athletes
She also threw the discus 14.15 meters, earning 5th place out of 9 and earning 2 points for the team.
Her 1500 time was 7:32.91, good for 6th place out of 7 and one point.
The varsity girls TIED for 1st place with St. John's, each with 117 points - again showing how important each point is!
Alex did 4 events today - jumping 1.45 meters for 6th place out of 7 and one point.
He also ran the 1500, finishing 8th out of 15 in 5:17.03
In the long jump he jumped 3.85 meters for 11th out of 13
And in the 3000, he ran 10:52.0 for 4th place out of 15.
The JV boys placed 3rd overall in the meet, behind American School of Paris and St. John's again.
A long but great day spent outside!