Track and Field at the Hague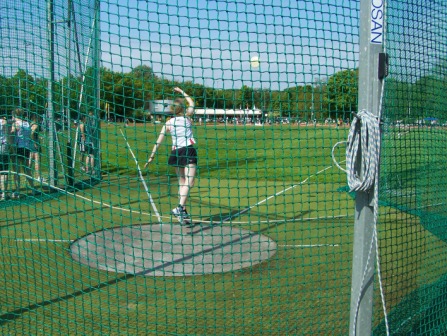 On a sunny day in May, the track team went to the Hague to compete with 6 other teams in a meet. Amanda and Alex were both competing so Sonya and Casey got a ride with another family going up for the day so they could watch. Above Amanda is throwing the discus.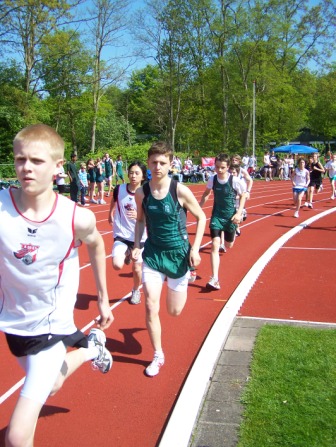 The 3000 meter is usually one of the first races of the day - get the long one over with early! Alex was running this event for the first time (and brought his glasses to Sonya just before the race and asked her to hold them...don't know why). This is the start of the 3000 with all the varsity and junior varsity boys running it together.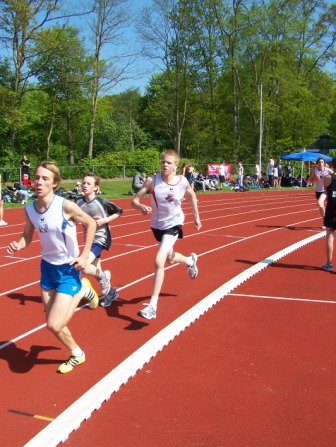 Early on in the 3000 still, Alex passes by - take note of the boy in the blue shorts from the American School of Paris. He will be the eventual JV boys winner with a time of 9 minutes 54 seconds - Alex is right on his heels at this point!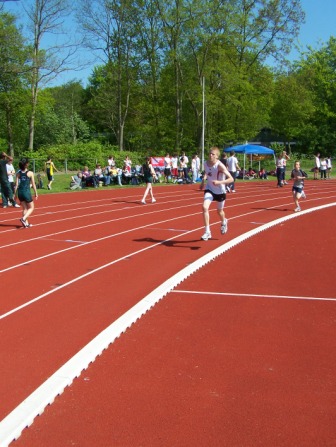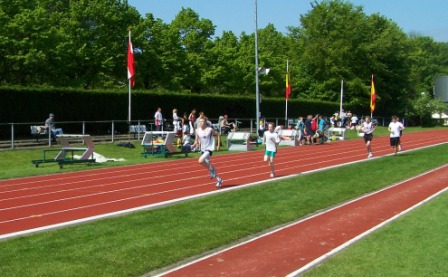 Alex has two laps to go (out of 7 and a half) and is looking good! He's lapping the boy in green pants here...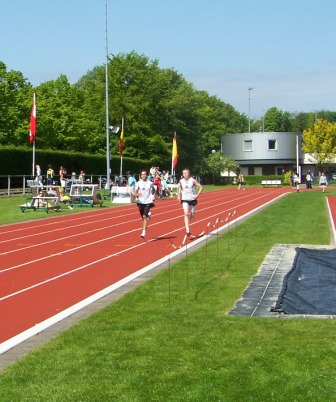 Baudoin and Alex just before the finish line. Baudoin in our school's varsity long distance king - he wins nearly all his races by such a large margin it is incredible. At this point he is finishing the race (with a time of 9 minutes 23 seconds) and Alex has one lap to go!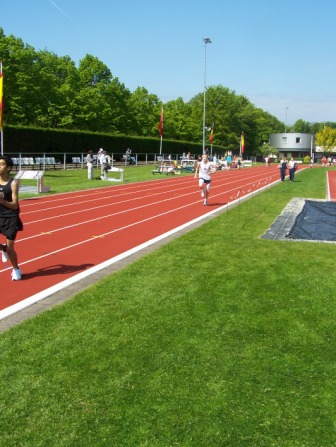 And here Alex comes for his finish (he'll lap the boy in black on his way across the line). Final time for Alex is 10 minutes 19 seconds - a second place JV boys finish and an awesome time for his first competitive 3000 meter run!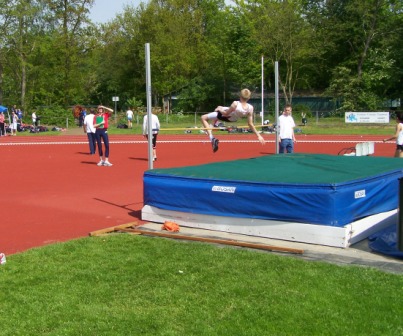 Alex also does the high jump - the only boy high jumper on the JV team. Our new head track coach is also the high jump coach - in addition to her role as a member of the Belgian high jump team and a coach of that team and another club team in high jump as well! What a great first coach for Alex to learn from! Here he easily clears the bar while she watches (in red and blue, shielding the sun so she can see). Her personal best jump is 1 meter 94 cm. Today Alex will clear 1 meter 35 cm for an 8th place finish (winner jumped 1 meter 60).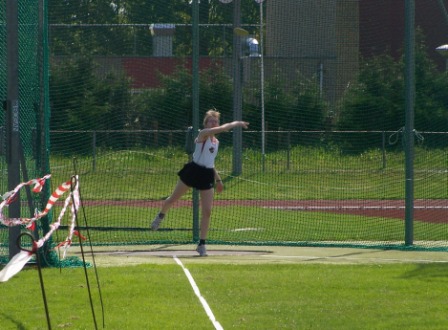 Amanda's favorite event - the discus throw! Today she threw 14 meters 64 cm for a 6th place finish for the day, beating two others and being very close to finishing one place higher. No where close to winning though - that throw was 26 meters 88 cm...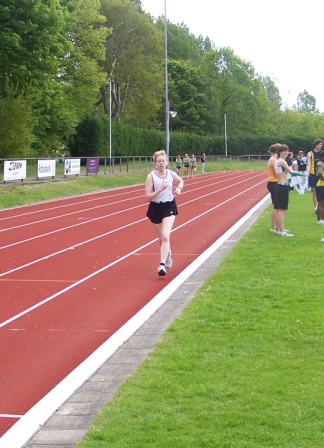 Amanda also ran the 800 today - an event she is not thrilled with but did for her team. There were only 4 girls in it today, so she got automatic points for the team just by finishing! Good job!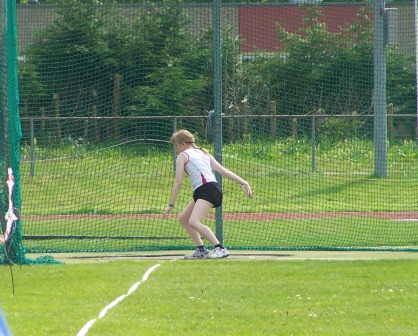 Amanda throws more....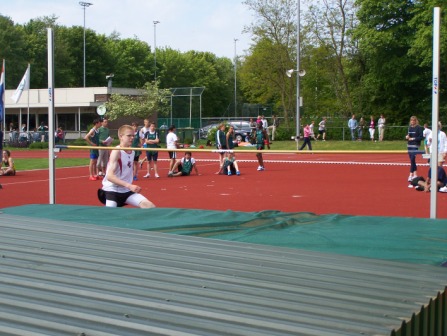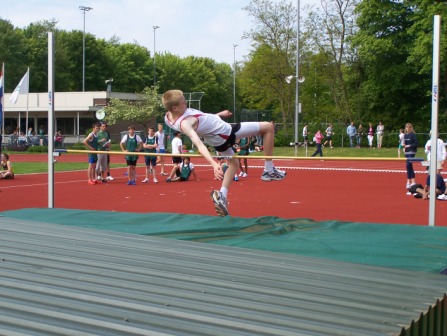 Alex jumps more - the two pictures above are parts of the same jump...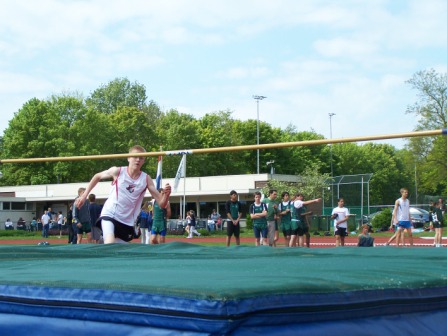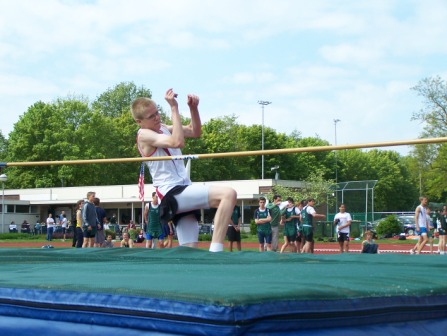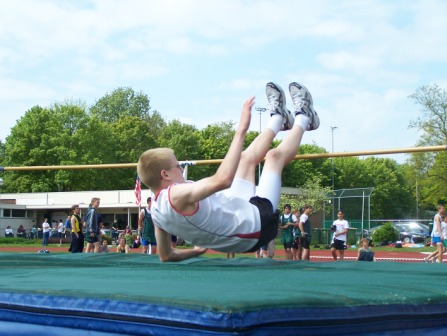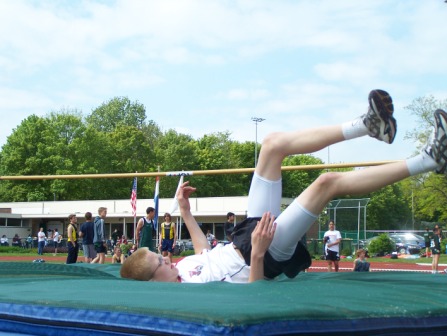 The four pictures above make one jump for Alex - just wanted to show the whole thing!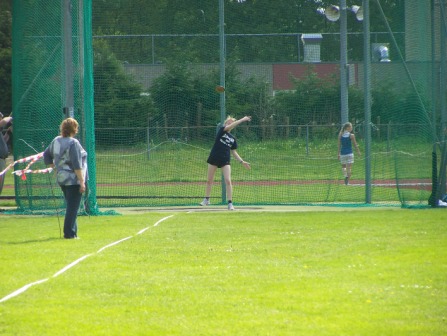 More discus for Amanda...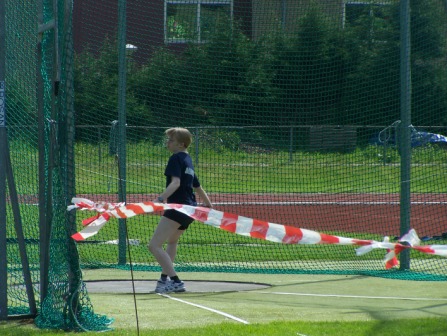 Amanda also throws the shot put - today she threw very well for her, but still finished in last place... maybe next week!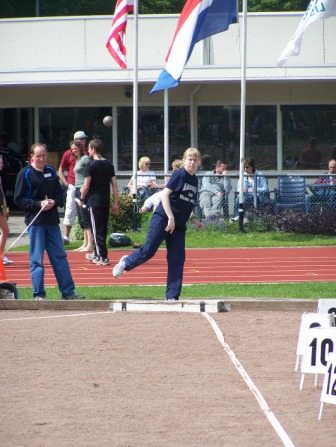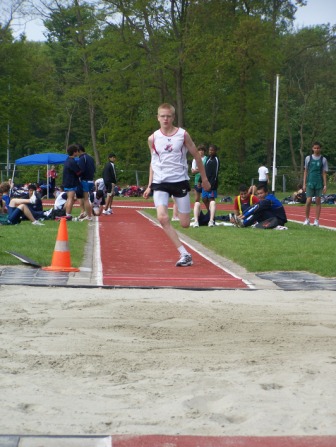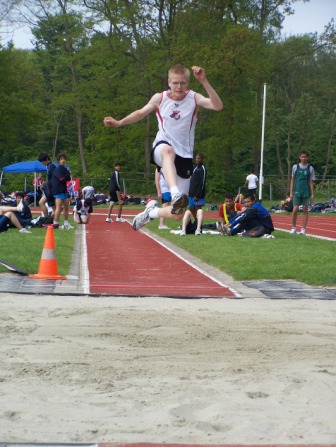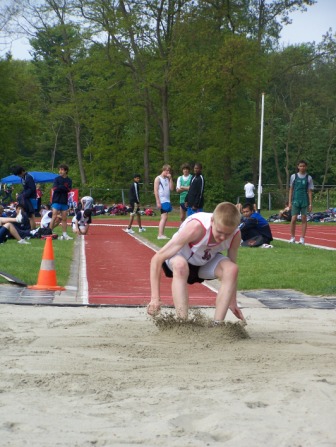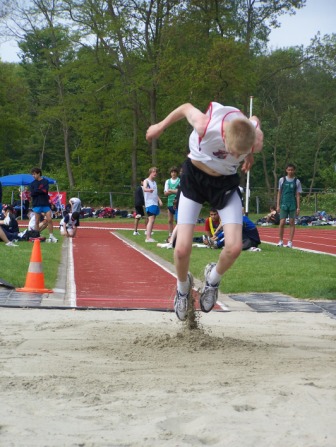 Here is one of Alex's long jumps of the day - he jumped 4 meters 12 for a 10th place finish - he wasn't happy as he has done much more in practice. Maybe next time for him too!
Alex also ran the 1500 meter - in 5 minutes 7 seconds for a 4th place finish on the day.
Both of their teams (varsity girls and junior varsity boys) came away with 2nd place finishes for the whole meet. Great job to the whole team!