Speech and Debate Club
Parents Presentation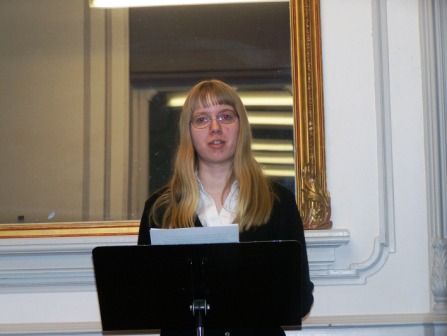 In March, the Speech and Debate Club held a performance for their families - they presented all 5 types of skills they do at a regular competition. These are Debate, Original Oratory, Impromptu Speaking, Duet Acting, and Oral Interpretation.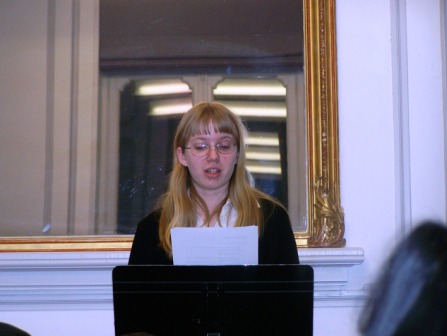 Amanda presented in two of the categories. She actually went first, giving her original oratory from the competition in the fall, entitled Airport Security. She spoke of the funny things that you are not allowed to take with you through security, up to and including your snow globe! Her presentation was to show a finished product, a speech that had been developed over a period of time. The next speech was given by someone just starting their speech to prepare for the competition next fall - they planned this to show the difference to us and so we could see how much growth and change goes into this work.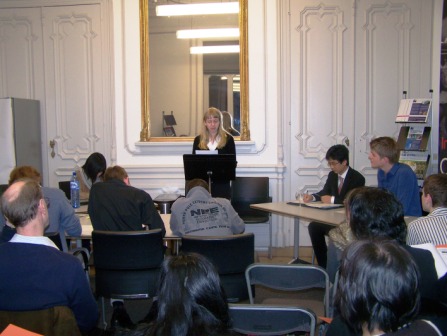 Amanda also got to show her debating skills. She and her partner Yullee went up against Young and Gustav to debate the given topic of Globalization is Destroying Individual Cultures where they were the affirmative side and had to argue that it was true. The judges were Sam, Harry, and Itay, who listened closely and took copious notes during each speaker's presentations and rebuttals (they are also club members - since this was informal it was a good chance for them to practice these skills that are done by the adults in a standard competition).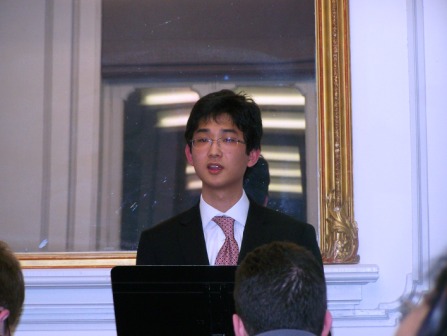 Young presents his part of the arguments that individual cultures are not being destroyed.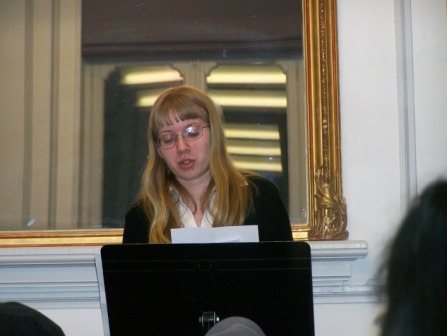 After great presentations by all, but a strong rebuttal from Amanda, the judges declared she and Yullee the winners!
It was fun to watch this whole event - the competitions usually take place far from home and are not attended by the families, so this was a great opportunity for us to see what our kids do when the go to practice all year and then finally to the competitions. They were all great - from the ones just beginning to the ones who have been doing this for years, it was amazing to watch what they can do!