Casey's Sleepover Birthday Party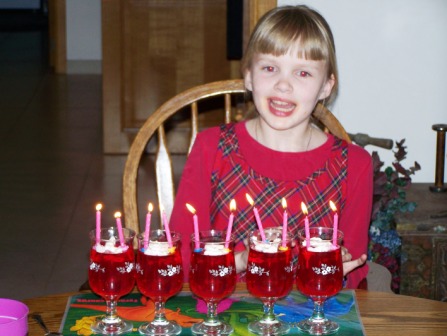 For her 10th birthday, Casey asked to have a sleepover birthday party - something that many of the girls are doing this year, so we invited her friends over one day in November for an early celebration! Casey planned the whole thing herself, centered on an American Girl - Molly theme. All the girls brought their dolls and accessories for a lot of playing, they watched the "Molly" movie, they talked a ton about American Girl stuff, and played some of the games that Molly might have played at a party during the 1940's.
For her cake, Casey chose jello with whipped cream letters to spell her name - it was really cute and the girls loved having the jello with lots and lots of whipped cream!