Try the Tri - Springfield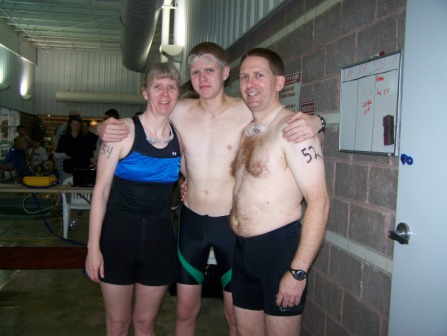 In May, Sonya, Alex, and Curt decide to "Try the Tri" at a shorter than normal event in Springfield - swim 150 yards, bike 5 miles, and run 1.1 mile.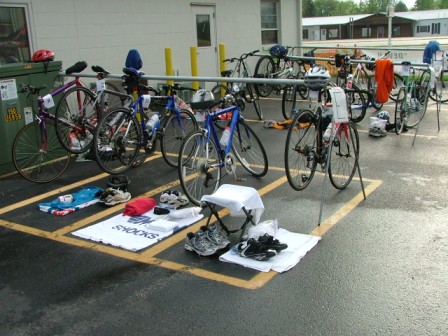 Here's our transition areas - Sonya has the blue bike and the Monroe shocks towel, Curt's area is just on the right of hers. Alex's area is ahead of Curt's - the green bike on the next rack.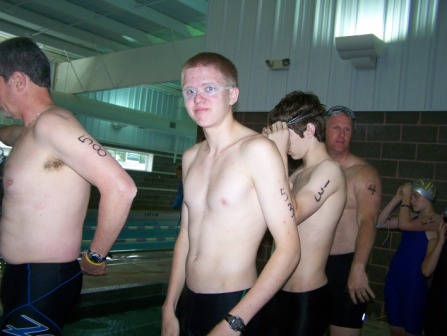 The swim is indoors in a pool, so everyone lines up based on how fast they think they can swim the 150 yards. That means Alex is nearer to the front of the line.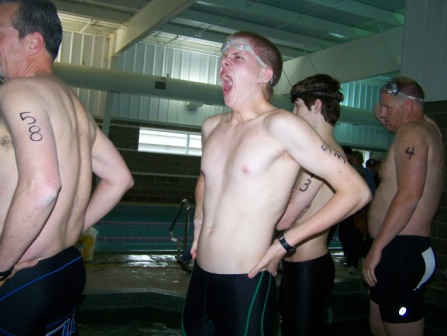 You can tell he's ready as he waits...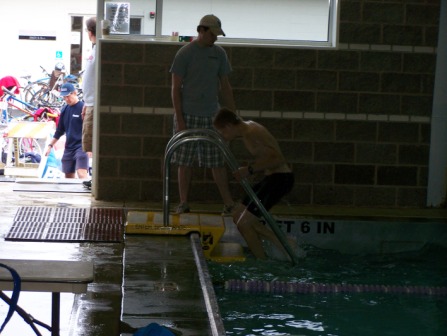 Alex completes the swim portion in 2:26.4 minutes - great job!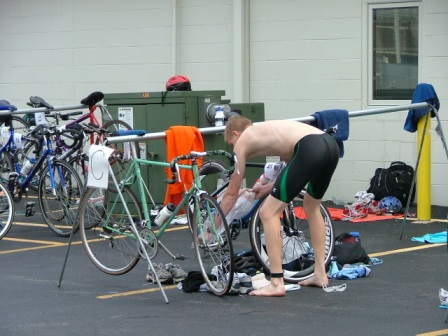 And now it's time for Alex to start the bike ride
Out he goes onto the course - he's a bit behind as the swim isn't his best event, but he can make it up on the bike and run.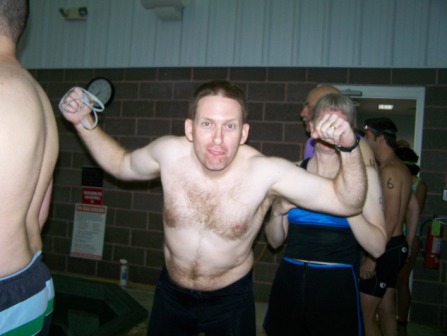 Curt is still waiting to go in for the swim - he and Sonya are much farther back in line than Alex was :)
Casey asked him to show his triathlon muscles!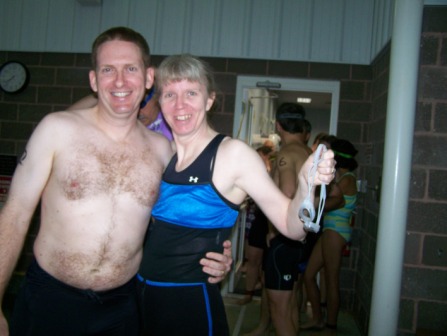 Curt and Sonya waiting to swim...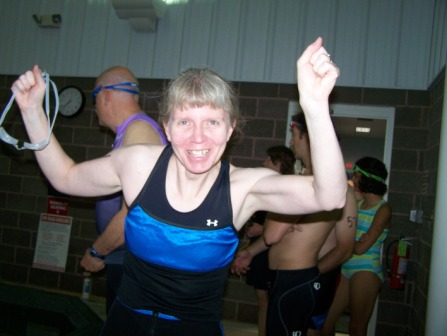 Casey wanted to see Sonya's triathlon muscles too.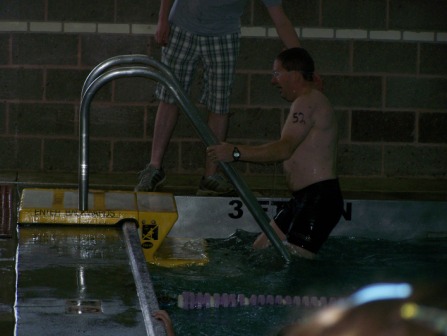 And Curt has finished the swim in 4:08.3 minutes!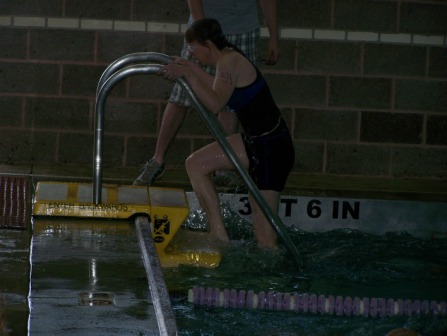 And finally, Sonya finishes the swim in 4:52.8 minutes!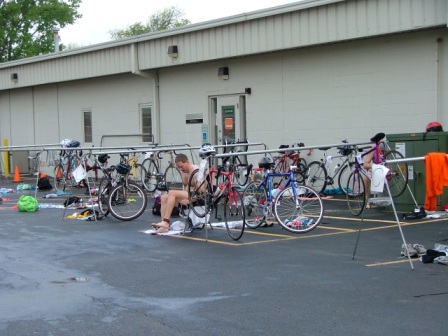 Curt begins his transition to bike...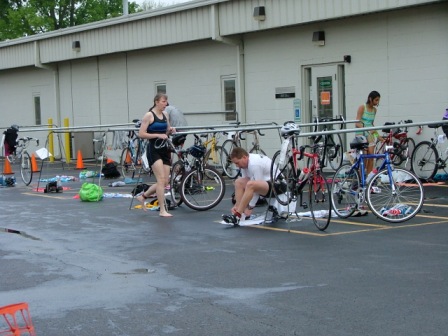 and Sonya joins him!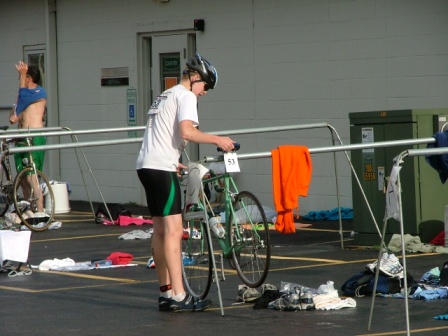 And Alex is back from his bike ride - there's a story to tell here yet! His bike time is 16:53.4 minutes - he had hoped for better, but wait for that story...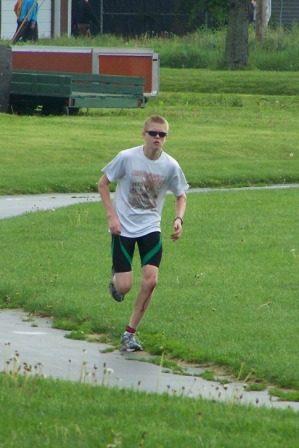 Take note of Alex's left knee - that's all blood running down his leg :(
And the story of that injury, plus others to his wrist, hip, and shoulder that can't be seen here - the bike ride is out and back and you have to go around a 90 degree turn with small rocks on it. Alex had been talked to about making sure he slowed down to take that corner to make sure he didn't slip out and crash... Well guess who didn't slow down enough!
Sonya was going out on her ride, watching for Alex to come back to see how much ground he had made up on the leaders and had seen only one biker coming in when she saw a rider down on that 90 degree corner and a distinctively green bike lying in the road - he had moved up to second place and gone down on that corner. The volunteers were tending to him, so Sonya called out, "That's my son, is he OK?" They said yes and Alex told her to go on. He knew this was her first tri and that her only goal was to finish and he didn't want her to stop. So she went on and hoped he was able to get back going again. What a good mom!
Even with all the injuries, Alex completed the run in 7:31.5 minutes!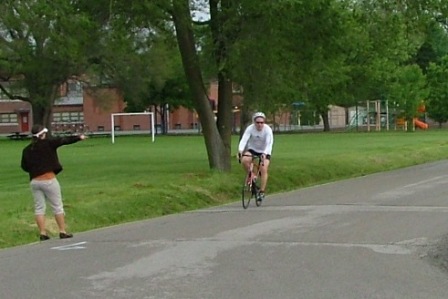 Curt came in from his ride not knowing anything about Alex's crash. His bike time is 17:36.8 - not bad!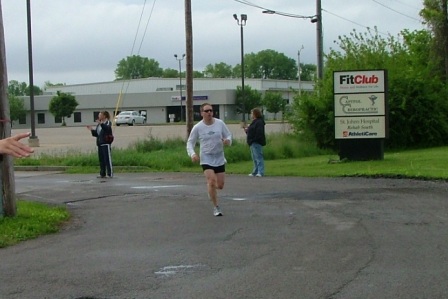 And Curt heads out to run.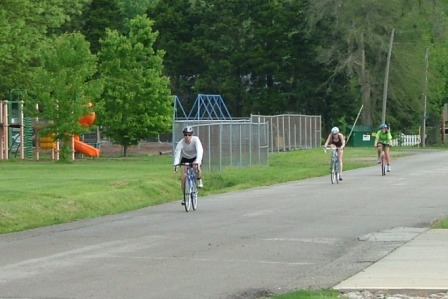 Sonya comes in from her ride. The volunteers on the corner had let her know that Alex had been able to continue, so that was good news! She completed the bike in 23:23.3 minutes - much slower than the boys, but she did it!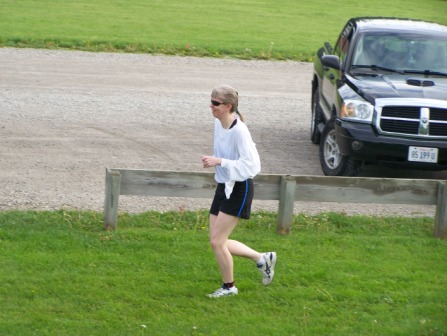 And then Sonya gets into the run.
Curt runs along side some of his competition... Curt finished the run in 10:22.0 - way to get it done!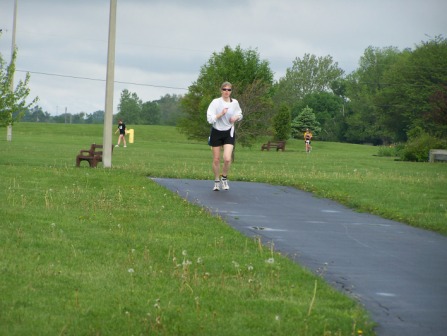 And Sonya is nearing the end. She did the run in 14:09.9 - yes, she finished the race!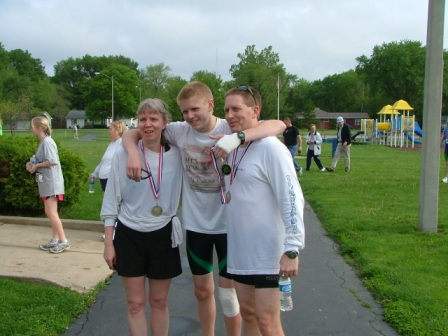 And now we have all finished!
Notice Alex's knee and wrist/hand - you can't see the bandages on his hip and shoulder that go along with these. He had quite the case of road rash!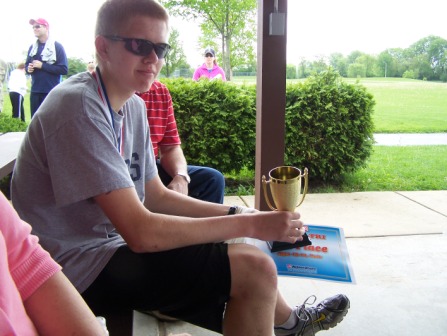 Alex ends up finishing 6th place overall and 2nd in his age group - good but not what he had set out to do!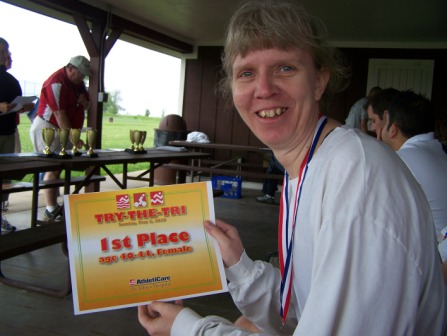 Sonya was pleasantly surprised to learn she had won her age division!
For Curt and Sonya, this is their first triathlon. Alex has done a longer one before and really enjoys them!