Eglise St-Pierre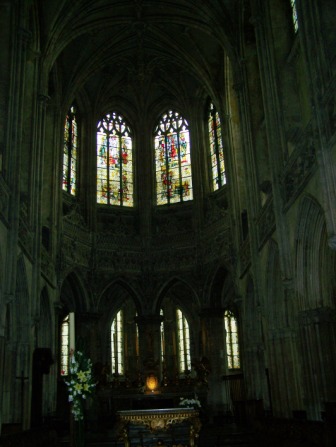 This church, called St. Peter's in English, is in downtown Caen. It was pouring rain by the time we drove the short distance from the Caen Memorial to the city center, where we were supposed to spend the afternoon seeing the castle of William the Conqueror and the two abbeys that he and his wife built, but since all that was meant to be time outside we had to change our plans. We got a quick bite for lunch then headed into this church across the street from the castle to decide what to do instead. We have no pictures of the outside of the church or of the castle since it was raining so hard!
The two abbeys actually house much bigger churches and this is only a parish church, but it is more richly decorated than most since it had many wealthy parishioners. It was started in the 13th century and finally finished in the 16th. There was a man seated inside drawing the altar area of the church - he was really good!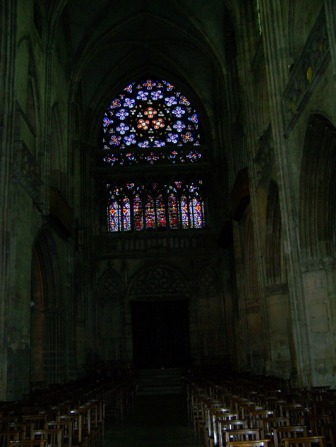 This is the back of the church (opposite the altar)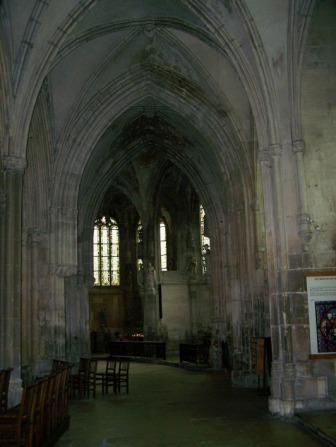 This is one of the sides looking towards the front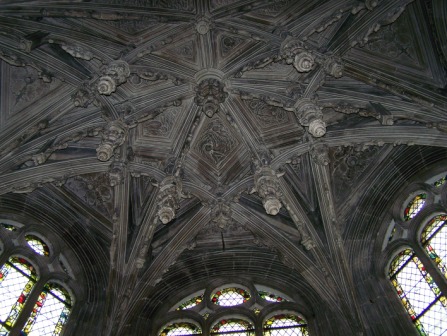 This is the ceiling of one of the side chapels - they were very richly decorated you can see!
We wish we could have seen the castle and the two abbeys, but it just wasn't meant to be. On the the Battle of Normandy Museum in Bayeux instead!